Environment and Seed Fair Organized
Date Published: 30 January, 2017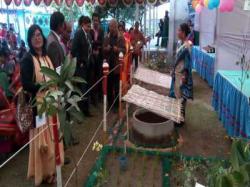 Last Updated: 30 January, 2017
Day long Environment and Seed Fair Organized by Udayankur Seba Sangstha (USS) with the support of USC-Canada on 29 January'2017 at Akaluganj bazar ground, Laxmichap union under Nilphamari sador upazila.
Ten ecological agriculture stalls on the fair displayed the ways of
producing food that respects nature and biodiversity and blends eco-friendly practices of small scale family farms.

With Chairman of Laksmichap union Aminur Rahman in the chair, Nilphamari Sadar Upazila Agriculture Officer of the Department of Agriculture Extension Mazedul Islam attended the concluding ceremony as the chief guest. Executive Director of USS Alauddin Ali, Sub-assistant Agriculture Officers Rakib Abedin and Abul Kalam Azad, Education Coordinator of USS Abdul Kuddus Sarker and Member of Laksmichap union Birendra Nath Roy addressed, among others.

The speakers laid emphasis on enhancing integrated approaches with
public-private partnership to promote and popularize the environment-friendly ecological agriculture in the country. Terming the ecological agriculture as pro-people, cost-effective and
environment-friendly, they suggested the farmers for using quality seed and organic fertilisers to produce food staffs beneficial to human health. Executive Director of USS Alauddin Ali urged to formulate a sustainable and integrated agricultural system taking into account the environmental and human health security aspects to exploit the full potential of the agricultural sector.

The chief guest said ecological agriculture with application of bio-
fertilizers, manure spreaders, crop residues, green manure, bone meals and compost had potential to reduce some negative impacts of conventional agriculture on the environment.
Reporter: Hamidul Islam, Coordinator, SoS, USS
MORE USS Events