Organic pesticide and growth hormone demonstration
Date Published: 10 October, 2018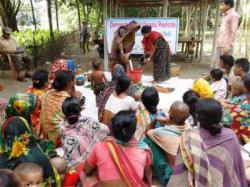 Last Updated: 10 October, 2018
Udyankur Seba Sangstha (USS) has conducted and facilitate organic insecticide and fungicide preparation and demonstration practically under Seeds of Survival (SoS) project by right holder at Jonglipara, Shohodev Borogacha Jonglipara & Shohodev Borogacha Masterpara under Laxmichap union of Nilphamari district on 7th , 8th & 9th October' 2018 respectively supported by USC Canada.
Objectives of the event:
Awareness raising of right holders regarding organic pesticide & growth hormone
Motivate community peoples to prepare organic pesticide & growth hormone & apply to their vegetables garden & crop fields.
Reduce crop production cost
There were 107 participants present among them 65 were female and 42 are male. At first step project coordinator discussed in detail regarding importance of organic vegetable consumption, soil health and environment. Then participants prepared organic insecticide by cattle urine with different bitter & medicinal value carrying plants following specific ration, organic fungicide name Bourdaux Mixture using Lime and Blue vitriol following specific ratio and organic growth hormone name Fish Amino Acid with the facilitation of SoS Project Coordinator and Community Facilitators (CFs). Finally participants used produce insecticide & Bordomixture in their vegetable field to control insect and fungal disease by the hand sprayer. A plastic drum and a hand sprayer have provided to the demonstration group from the mention project for organic pesticide preparation and to do spray in their pest infected vegetables garden. Md. Jomil project coordinator overall conducted the whole program. Sri Jotish Chandra Roy Sub Assistant Agriculture Officer (SAAO) of DAE was present at the time of demonstration of Jonglipara on 7th October'2018. All participants participated actively and committed to apply these technologies in their vegetable crop field to control pest and to produce organic vegetables, consume of these product, save their land & environment. This event will contribute to achieve SDGs 13, 14 & 15.
Prepared by:
Md. Jomil, Project Coordinator, SoS Project, USS.
MORE USS Events