International Day for girl child observed
Date Published: 23 October, 2014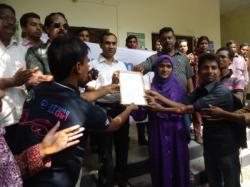 Last Updated: 23 October, 2014
In recognition of the importance of investing in and empowering girls during adolescence and preventing and eliminating the various forms of violence they experience, the theme of International Day of the Girl Child for 2014 is Empowering Adolescent Girls: Ending the Cycle of Violence.
USS organized human chain at a time in all unions supported by Plan International. Human chain was leaded by respective union chairman and union child forum members, where school teachers, parents and community people took active participation in the program.
In Pourashova, human chain was headed by Md. Hasan Habib, UNO, Jaldhaka and Alhaz Sayoid Ali, Upazila chairman. In the human chain program UNO said that, "It is a good initiative to stop child marriage in Jaldhaka upazila. I welcome the initiative and want to work together to stop child marriage in Jaldhaka upazila"..
After finishing human chain all union child forum representatives went to UNO office leaded by Keshob Roy and Arjina Begum who are model leader and respective youth in the upazila level. They gave memorandum to honorable prime minister of Bangladesh on lowering marriageable age through UNO of Jaldhaka upazila.
Reported by:
Pobon Malo, Project Coordinator,USS, Jadhaka
MORE USS Events