Observation of Child Right Week'2018
Date Published: 6 October, 2018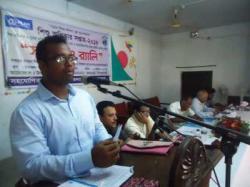 Last Updated: 6 October, 2018
Plan international Bangladesh and its partners are trying to ensure the child rights and their development through child centered community development approach (CCCD). USS has been implementing various types of intervention to ensure the child rights. Bangladesh government declared the Child Rights Week from1st October to 7th October'2018. Ministry of Women and Children Affairs (MoWCA) along with the different organization observed the week with different activities. The theme of the week declared by the government was "School will be safe to build future of child". Bangladesh government observes the International Children's Day on the first week of October each year.
Objectives of the event are below:
To raise the awareness on the rights of children and also influence to the child welfare boards.

To share the scenario of child rights situation in Bangladesh as well as our working area.
Description: USS observed the day under R2PP project through rally and dialogue funded by Plan International Bangladesh at Jaldhaka upazila of nilphamari district on 1st October'2018 where Md Aminur Rahman member of Upazila Child Welfare Board- Jaldhaka as chair person and Mr Uttom Kumar Ray UNO and chairman of Upazila child welfare board, Jaldhaka was present as a chief guest. Md. Abdul Quddus Divisional Manager of Plan International Bangladesh of Rangpur division, Mr Alauddin Ali Executive Director of USS, Chanchol Kumur Boumik Upazila Secondary education Officer, Mst Nurannahar Shajadi Upazila Women Affair Officer and Md. Hokim Ali Chairman of Mirganj Union were present as special guest. This event was started with singing national anthem of Bangladesh and all participants as well guest joined and respected national anthem. Sindhu Rani Ray, Member of Upazila Child and youth network delivered welcome speech in the event.



Md. Rain-al- Rezvi- Member Child and youth network – Shimulbari, has shared the child rights situation in Bangladesh as well as Jaldhaka Upazila and he also shared the compression data in 2017 & 2018 dialogue session. Secondly Community based child protection committee members Mr Lutfor Rahman was share the role and responsibility of CBCPC to ensure the child rights, and also shared their achievement/ change. After sharing the two documents, discussed interactively regarding violation of child rights, child labour, to develop the monitoring mechanism of child rights violation issues, ensure child rights etc. by chief guest, special guest, duty bearers and participants. Ala Uddin Ali Executive Director of USS was playing role as a moderator.

Reflection/ output of the events:
Participants have gotten space for sharing their best practices from view to Community level.

UNO realized that child representation is most important of their development and also representation of Upazila child welfare board meeting.

Limitation and challenge
USS is trying to create the democratic space for child development through increasing their participation & development. Plan international Bangladesh is continuing their support to implementing the respective activities one of them is child parliament. USS is grateful to honorable guest and others to providing their suggestion and recommendations for improvement in future.
MORE USS Events