Capacity Building Training on Leadership and Management for Human Rights Defenders
Date Published: 30 October, 2018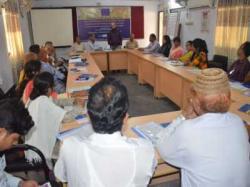 Last Updated: 30 October, 2018
Udayankur Seba Sangstha (USS) and News Network, Dhaka has arranged jointly capacity building training on Leadership and management under Supporting Human Rights Defenders Working for Women's and Girl's in Bangladesh funded by EU at USS training centre from 06-08 September'2018. There were 26 participants of Coccas executive committee members, reporter, editor, religious leader, NGO and civil society present who were come from Nilphamari, Kurigram and Lalmonirhat district. Imam Hasem DD of social welfare department of Nilphmari district inaugurates the training. Alauddin Ali, Executive Director of USS provides welcome speech and describe regarding goal and objective of the training. Sorwer Hossain president of Nilphamari coccas & Principal of Moshiur Rahman Degree College, Lalmonirhat district coccas president Dr. S.M Shafiqul Islam Kanu, Kurigram district coccas president A.K.M Samiul Haque Nantu and Masuma Yousuf Field coordinator of News Network were provide lecture. NGO specialist Joty Vottachrio and Salma Akter Gender development Officer of USS were play facilitator and co-facilitator role.
Achievement of the training:
Participants has gained clear concept on human rights
Participants has gained knowledge on Human Rights declaration'1998
Participants has capacitated regarding Fax findings report.
DD of social welfare department of Nilphamari district provide thanks to USS & News Network to take this initiative and also gratitude to EU for give support. Participants express their opinion that this training will be helpful to work smoothly as Human rights defenders.
MORE USS Events